Books by Rafe Martin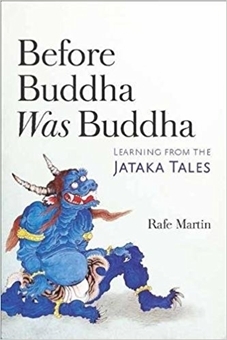 BEFORE BUDDHA WAS BUDDHA: Learning from the Jataka Tales
Wisdom Publications


| | |
| --- | --- |
| | Support independent booksellers. Purchase from ABA member stores. |


Discover how ordinary beings—a deer, a robber, a monkey, a parrot, and more—make up the past lives of the Buddha before he was Buddha.

The jataka tales are ancient Buddhist stories found in both the Pali Canon and Sanskrit tradition, recounting the many past lives and ongoing spiritual work of Shakyamuni Buddha on his way to his final birth as Siddhartha Gautama. In them we find the Buddha facing difficulties, making tough choices, doing hard work, falling down and getting back up—the kind of continuing effort of spiritual practice that all beings face.

Before Buddha was Buddha focuses on a selection of particular jataka tales in which the Buddha in past lives faces temptations and struggles with self-doubt as well as his own shortcomings. In these tales he's not beyond life's messes—its challenges and disasters—but is down in the mix, trudging through the mud with the rest of us. Each story, presented in brief, is followed by a commentary pointing to its relevance to our lives and practice-realization today. 
"Those who thought the jatakas were just morality tales for another age should, given Before Buddha Was Buddha, take a fresh look. Rafe Martin draws upon his insight, his knowledge of the jatakas, and his long immersion in the Dharma to create, through these stories and commentaries, vivid constellations we can use to navigate our own dark times."

—Bodhin Kjolhede Roshi, Abbot and Spiritual Director, Rochester Zen Center

"In my work as a transpersonal psychotherapist, I've seen people discover that their psychological issues are actually doorways to aspects of their True Nature.  "Nothing is in the way; everything is on the Way!" says Rafe Martin. In Before Buddha Was Buddha, he skillfully uses the very human predicaments shown in the Jataka Tales and embodies them as his own, to show the Way. I believe that many people, Buddhist or not, are going to find this book a useful and encouraging companion on their own path of personal growth."

—Dale Goldstein, LCSW, Director of The Heartwork Institute and author if Heartwork: How To Get What You Really, REALLY Want